We are committed to the holistic development of our children and have created exceptional programs for the enrichment of their body AND minds. Our handpicked, dedicated and loving educators takes every opportunity to expand on children's interests and this is complimented by our highly experienced teaching team who works closely with each individual educator and child to provide a tailored, individualised learning journey program.
Love & Belonging
It is only when a child feels loved and secure that he/she will then develop the confidence to explore and learn. Our teachers and educators are hand-picked for their loving nature and will actively assist your child in making friends and engaging in group activities.
Teacher: Child ratio
Our educators have a maximum of 4 children at any one time. We also heavily discourage educators from enrolling more than 6 children per week. This means your child will have an substantial share of the educator's attention and the educator will be able to provide the very highest individual education and care for your child.
Curriculum
We are inspired by the principals of Reggio Emilia and Montessori, and operate under the guidelines of Te Whaariki (The New Zealand Early Childhood Curriculum).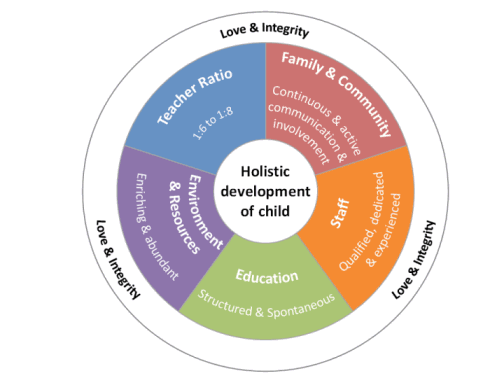 We believe that the early years of a child's development has the greatest influence over who they will become as individuals in adulthood.
We believe that children are infinitely capable, inquisitive and must be provided with abundant resources and given the freedom to explore, experience and express.
We believe that parents/guardians, our environment and community are partners and collaborators in this education process.